ResearchGate is an online network platform for research promotion, which helps to connect different researchers and makes it easy for them to share and access scientific output, knowledge, and expertise.
These researchers can find everything they need to advance their research on ResearchGate, which also makes access to academic research and collaboration between researchers easier.
To start connecting and collaborating with researchers around the world you need to create an account and take benefit of this imaging online platform.
How to Create a ResearchGate Account
After categorization in, users will need to register and create an account by clicking on Join to create one.
Step:1 Go to ResearchGate, Click Join for free or connect with Facebook or LinkedIn
Step 2: Select which type of researcher you are, will redirect to the next page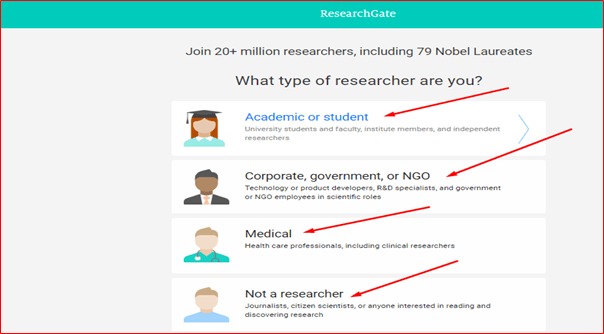 Step 3: Enter your name, institutional email address, and choose a password click continue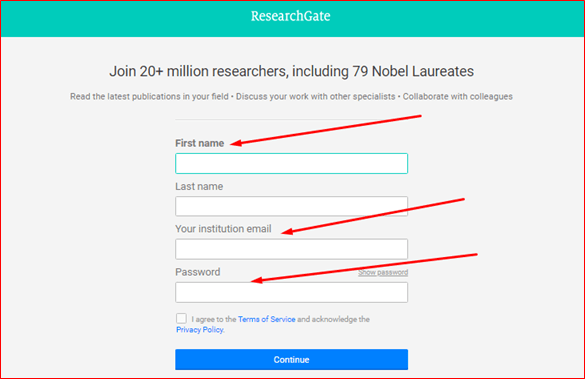 Step 4: This page might show some papers related to your name to confirm your authorship. If you find your paper there, click on I am the other otherwise this is not me
Step 5: If you click on Skip this step the following page will appear
To complete your registration verify your email address you will need to click the link in the activation email you receive.
Open your email account and check the email form ResearchGate and simply choose to confirm your email address from the drop-down menu. The procedure is now complete. You may modify your profile and follow other members of your network from here. To sing out, click on the arrow-marked sign in the image below. Then select Log Out.
To log in next time, go to Research Gate , choose Log In, and enter your email address and password.
Why it's important to have a ResearchGate account
The major goals of a ResearchGate account are to inform action, gather evidence for hypotheses, and contribute to the development of knowledge in an area of research. ResearchGate helps researchers connect and exchange scientific output, information, and expertise.
It's a good idea to register a ResearchGate account while doing research for a paper or utilising ResearchGate to find a possible partner so that researchers may email you their papers to read and comment on.
ResearchGate can also help you locate a good research partner, which is especially useful if you're a beginning researcher or want to develop your abilities.
ResearchGate provides two unique features that might help you with your study.
The first is the ResearchGate Platform, a collection of tools designed to assist academics in a variety of areas including chemistry, anthropology, economics, computer science, data analytics, physiology, and neuroscience, and second is to discuss the topic by asking questions
What role does ResearchGate play in academic research?
ResearchGate has a user base of 15 million people, and it can help you interact with many scholars who don't have accounts on other social media sites.
It may also help you understand your readers using platform-specific data, such as the Research Gate score, and validate your position as a helpful expert in your area using their "Q&A" function.
With over 400 million page visits, ResearchGate is a major social network for scholars and academics. It can help you calculate your citation score and enhance your author platform.
Researchers may use ResearchGate to share, link, connect, and cooperate with other researchers on an easy-to-use platform.
Researchers may discover what they need to improve their study on ResearchGate, which also facilitates access to academic research and researcher cooperation.
In the area of academic research, ResearchGate is very important.
Users may submit papers, book chapters, and notes, as well as read the most recent academic literature and get feedback.
Others on the site may follow and like users, while users can follow and like other researchers and community members, adding them as followers.
Users may also download and exchange information from the ResearchGate Application Store, where they can discover items that will help them cooperate more effectively and even get course material to improve their teaching.
it has ability to connect with Office 365 and Google Drive is also a huge plus.
How does ResearchGate differ from other social networking sites?
Researchers may use ResearchGate to build a reputation and make themselves visible to potential colleagues and sponsors. Researchers can easily set up their profile and discover what others in their area are working on thanks to a number of unique features. The site's search engine delivers posts that are related to your field of study automatically. Authors can also use the site to comment on, discuss, and interact with the information on their sites.
Conclusion
ResearchGate is a fantastic resource for connecting scholars. It has thousands of scientists enrolled, a highly helpful community, and it is extremely simple to use. This is intended to aid in the creation of group conversations and challenges, as well as give members with the chance to make comments and answer issues that cannot be addressed in the comments. His social networking site is ideal for researchers searching for a place to discuss their thoughts with other users and bring together various scientists to challenge and share their research and ideas.
This concludes this article, and you can see how I created a Research Gate account using few steps, and you can use these tips to access and collaborate with researchers all over the world. KRS is an academic cum research platform that assists you in your career advancement by bringing new articles to you on a regular basis, so stay connected.
If this is your first visit to this blog, please share and subscribe to our blog so that it can reach as many people as possible. For more E-content and research assistance, visit our website or contact us at [email protected] for a free consultation.