In this article, we are talking about the new UGC Academic Job Portal for NET, SET, and Ph.D., according to a statement issued and published on 16-06-2021 UGC Letter reg. Academic Work Portal by the University Grants Commission, that the job portal helps employers to search and browse the study profiles of candidates for the jobs.
Applicants wishing to use the portal services will register and create their online profile by visiting the official website site of the UGC Job portal and registering his/her self.
The UGC Academic Job Portal will help candidates submit their academic profile to universities or colleges and to other platforms to find suitable employment at a university, college, or other tertiary institution.
The site also helps employers to register and fill vacancies on the site so that applicants can apply for vacancies.
In addition, the UG commission is also in the process of developing a career by introducing Non-Teaching posts and is keen to add new features. The upgraded site will also be available for candidates and employers soon.
The UGC also asked employers to upload their vacancies to a job portal that will help out this information to the eligible candidates.
Step To Step Registration Process for UGC Academic Job
Step 1: Go to the UGC Academic Portal website, then look to the right, Click to register and join for free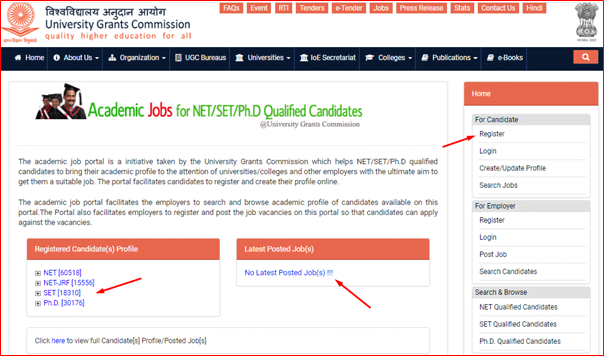 Note: You can also check the status of all NET / JRF / SET / PhD registered candidate subject vise on this portal and search for jobs posted by different institutes.
Step 2: Enter all the specified details and after completing the security key click on register
Step 3: You receive a successful sign up message display and you can see a new candidate login dashboard automatically,, you need to login by selecting as an option, enter your registered email id and password security and click login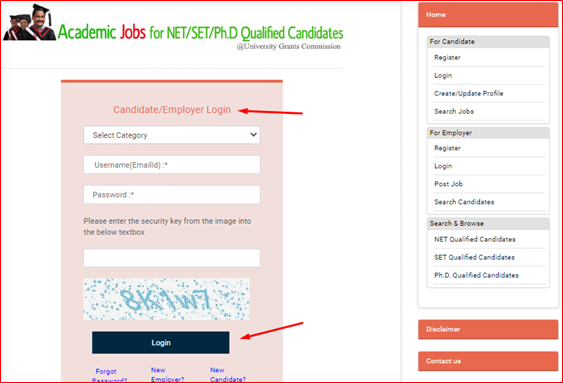 Step 4: Now, Your registration process almost completed and you get your own board containing personal details, qualifications, and job information and publishing categories
Note: Now you can fill in all the information one by one by clicking on create / edit profile sections
Step 5: Fill in all personal and contact information correctly and click save on the following
Step 6: Next, add the qualification information and work experience to date correctly and click save and next
Step 7: Add details of the publication that has been properly addressed and click save and next
Step 8: Now you reach on the final step, add other relevant information if any, and click agree button and save
Step 9: You have finally done UGC say you registration has been completed successful, Click ok butten
Cheers and you are now ready for Job's search !
Step 10: For sing out, hit the icon marked with an arrow in the next image and then click Log Out.
Step 11: To sign in again, visit the UGC Academic portal click to sign in and with your registered email and password you can sign in
Note: You can update your profile from time to time and add your own experience with research and publishing etc.
This is all about this article and process of registration in the UGC Academic Job Portal on the UGC website and I hope it will help you in your search for a job in any higher education institute, KRS is an educational cum research platform, helping you to advance your carrier.
If this is your first time here on this blog, this blog to improve your reading skills, and research, before leaving please share and subscribe to our blog so that it can reach all people who need help, and more E-content, research support, you can find on our website or write to us here is info@kressup.com for a free consultation.
If you find this article useful, don't forget to share it!
Related Articles: