If you're a researcher without an institutional email address, we're delighted to tell you that you can create a research Gate account for free without one, and the research gate will take your request into account.
Research Gate is an academic social networking site that helps you to facilitate access to academic research and collaboration between researchers all over the world.
Please contact research gate with a thorough description of your current and previous institutional affiliations, research field, and publications, preferably with links to supporting materials.
Let's take a look at step by step procees of creating a ResearchGate account and connect with other academics in your field all around the world, making it simple for them to share and access your scientific output, knowledge, and expertise. They can simply locate what they need to advance your studies on Research Gate.
How to make a research gate account without an institutional email account, one can make a research gate account and follow your professors or resource scientists, or can upload his/her research article to that specific research gate website or portal.
Inviting your peers, colleagues, and co-authors to sign up for a ResearchGate account is one approach to expand your network and vice versa.
Your work is more likely to be viewed, citede or downloaded if you have more followers and co-authors on ResearchGate. You'll also be able to see what your colleagues are working on and what they've published.
Note: You must connect with any collaborating professor researcher who already has a research gate account and nominates you or sends you an invitation. Once you receive this invitation, you must add your Gmail account, yahoo account, or hotmail email id and create your research gate account.
How to Get a Research Gate Account For Free
Step 1: After logging into your ResearchGate account, go to the top right-hand side and click the down arrow next to your profile photo.
Step 2: Next, in the drop down arrow belwo to yoru profile image see the invite colleagues icon and click on it.
Step 3: Next, Invite colleagues by sending them an email, enter the email addresses of the nominees you want to invite, and click send a nomination for those individuals who wish to create accounts without having an institute email id
Step 4: The invites are need to login to his/her email account and check for an invitation, Click on the invitation.
Step 5: By accept the invitation by clicking accept invitation, you will be in the research gate website.
Note: You can select any choice from the list above; for example, if you choose Academic Researcher, the page avove will appear.
Step 6: Fill in the details about your institute or affiliation and click continue or skip this step.
Step 7: Fill in your personal information, check the box that says you agree to the terms and conditions, and then click Continue.
Note: You can use your own email address instead of the institute's email address to establish your identity.
Step 7: Now it is yet time to requalify for a free account, provide the details of your current position, educational level, and publication history, discribe about your research and request for free acooount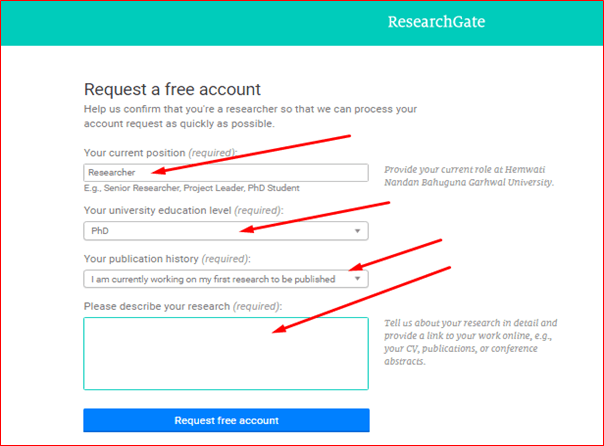 Note: In the description box, you can write a statement such as "I am a research student who has published a research paper and requires a free account."
Step 8: Oh, you have a message, Thank you for requesting research gate account processing, We'll process your request promptly, you can obtain a notice from the research gate as described below

Note: After one or two days, you will receive an email account through your research gate account, which you may easily create.
Check your email id on a regular basis, and after a couple of days (one or two), you will undoubtedly receive this email account from the research gagte corporation that is sending you for the creation of research get account.
Bonus tip: As you can see, I'm using my personal email id to make a research gate account; there's no need for an institution email account or anything else. That's one of the best techniques and tips since you can build a research gate account very quickly and effortlessly.
If you want to make a research gate account and need a nomination, send me a message or leave a comment and KRS will send you a nominee invitation, so you can simply create a research gate fantastic account. I hope you enjoy this article.
This is the steps of this article, and you can see how I created a ResearchGate account without using any kind of institution or company email account, hope it helps you in the creation of your account, KRS is an academic cum research platform that assists you in your career advancement by bridging the gap between academia and industry.
If this is your first visit to this blog, please share and subscribe to our blog so that it can reach as many people as possible. For additional E-content and research assistance, visit our website or contact us at [email protected] for a free consultation.