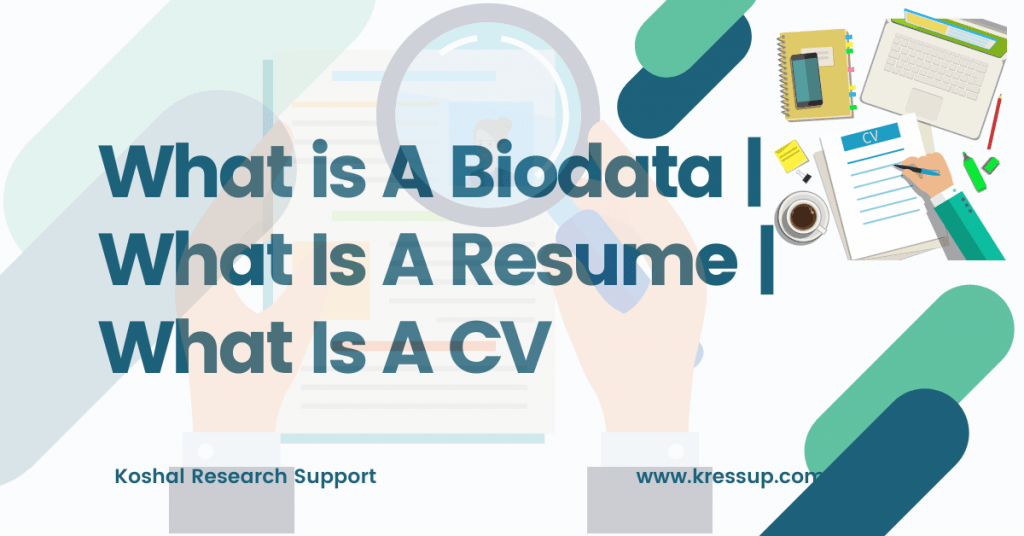 What Is A Biodata
?
Bio-data is a short form of biographical information, to be honest, mostly it is considered as an old-fashioned name for CV or resume thus people used to call bio-data. But in earlier now they call CV and resume now this term is now only used for nonprofessional purposes like for marriages, etc.
If you are sending your details for marriage or something like that then it is called send your bio-data and this is mainly a one-page document about you which includes your details like date of birth gender religion race nationality residence marital status and qualification.
The basis of bio-data is the predictive ability of a person in past behavior is the best predictor of future behavior. The biographical information is not expected to predict all future behaviors but it is useful in personnel selection in that manner so that it can give an indication of probable future behaviors based on an individual's prior history or bio-data instruments.
What is a resume
?
The resume well it is used for professional purposes, not for marriages and things like that resume word originated from a French word which means summary now this is usually longer than bio-data and shorter than a CV and contain details about your skills and qualification main focus are on your professional side and it is customized for a particular job.
The resume highlights the skills and the experience that align well with the trades and employers looking for in their ideal candidate often these skills come from internships in a part-time job and also from extracurricular activities. Most importantly a resume illustrates your value to an employer by value means the type of results a job seeker has previously produced and can reproduce the same value in the next level in two categories productivity and probability from previous experiences. There are many uses of resume and it is typically used for internship employment opportunities etc.
The content of the resume decides on a format that would get you noticed remember a resume is an opportunity to make a first impression good and the right format will help you tell your story more effectively to the employer.
When composing a resume make sure it looks professional utilize margins and a ruler with spellcheck proofread and revise. In a resume that includes relevant information the length of your resume should be one-page but depending on your experience and skills, it can be more and all formatting should remain consistent.
We endorse you to pick one recommended formatting and stick with it throughout the document for the chronological format there are basic sections like the contact information education experience and skills but other sections can be used strategically depending on your experiences for example the objective statement summary qualifications are undertaken experience affiliations undergraduate research and projects in short.
What is a Curriculum Vita?
CV is frequently known as Curriculum Vita, before talking about what a CV is let's talk about what it's not a CV, it is not a resume. A resume is a list of your past jobs along with relevant skills and accomplishments in your career that you use in a job application and a CV is used to apply to positions related to academia typically opportunities in education science or research carrier.  
Curriculum vitae it is a Latin word that means a course of life and as the name suggests it is not limited to a particular job profile it is the overall profile and this is the most common term used nowadays in job interviews however this is also for professional purpose and your details are optional. You can write fewer details and focuses mainly on your qualification your experience your job profile etc
Curriculum Vita can be more than two pages long the average length of a CV is three pages. However, it can go there is no limit it can be 10 pages long because it's your opportunity to explain your experience and achievements in detail they're usually listed in chronological order these are the sections CV should include your contact information education always first including thesis or dissertation honors and awards professional experience or employment, publications, presentations, extracurricular and volunteer experience and finally interests optional sections include objective or summary, certifications, and licensure professional affiliations professional activities research or added qualifications.
The main difference between a resume and CV is that CV is about your overall personality and resume is mainly for a particular job profile. Lessons show that an interviewer takes just 30 seconds to look at your CV or resume and decide whether they will give you that job or not.
In short, a CV is more like the scrapbook of your life while a resume is more like a picture consequently don't be confused to present your right matter in the right place when needed.
Finally thank you all for reading this article and I hope it helped you|
With every article, the  Koshal Research support (KRS) platform goal is to increase the level of your happiness health with a wealth of knowledge.