Plagiarism Checking is a process of testing one's academic writing against the text already published or submitted online by other workers worldwide and this process helps writers to make his/her documents unique by scanning his/her text with different Plagiarism Checker tools and software.
Methods of Plagiarism Checking 
Manual Plagiarism Checking or testing of written content is time-consuming and ineffective and the software reduces this burden on students and teachers by making the process automated.
Such software also adds algorithm-based acquisition features, as well as useful skills such as writing suggestions and quote generators. You can test any document in any plagiarism checker software by using few steps
Step 1. Search for Plagiarism Checking software online, Example, Duplicate checker" M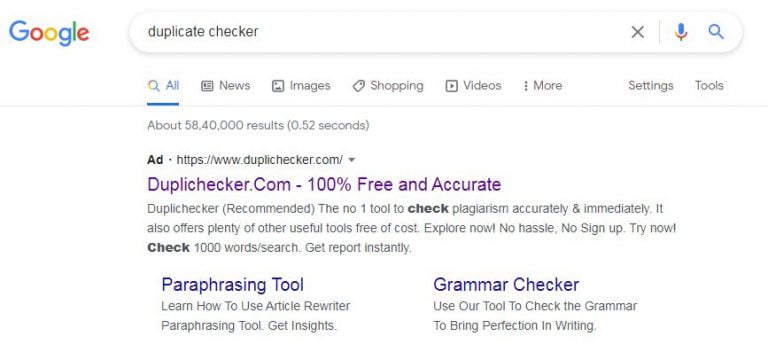 Step 2. Copy and Paste your text into the search box, with a maximum of 1000 words per search Or, Upload your Doc or Text file using the Choose File button or URL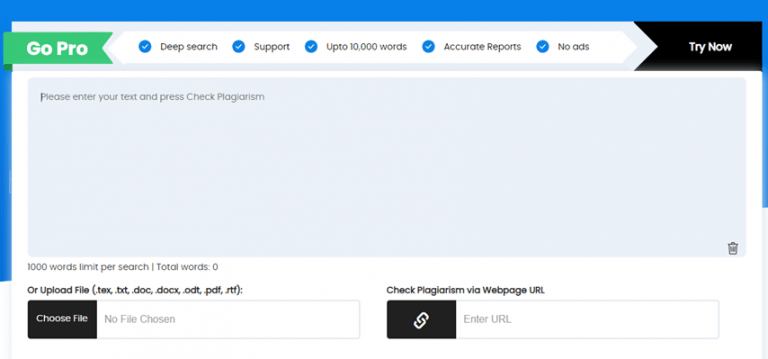 Step 3. After clicking on CAPTCHA scroll below and click on the "Check Plagiarism button and wait for few moments till the result generated by scanning the whole documents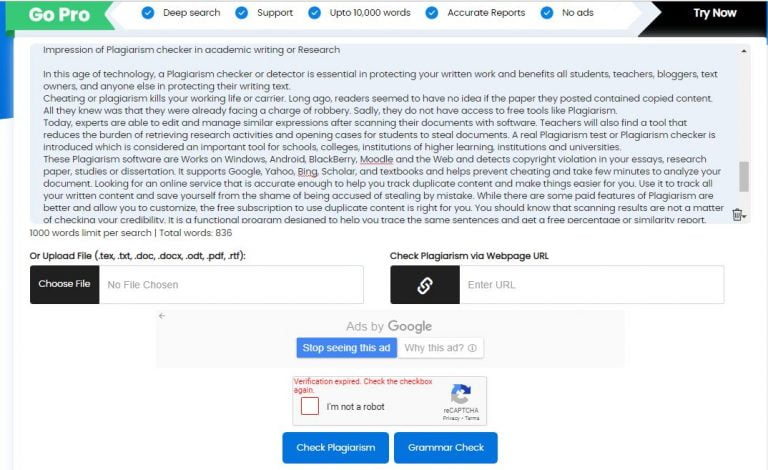 Step 4. See the final result with plagiarized text in RED color and unique text in GREEN. or
you can download a PDF file of that report and see the details, the plagiarized text is display in the REED color.
Note: You can see the word count, character, date of your text checking, and matched sources similarity % in this report.
There are some free Plagiarism Checker software and tools available online for your document analysis for plagiarism or duplicate text and one may find these features in advance mode in paid version of Plagiarism Checker software who need a percentage of cash for subscription and this can be a problem if you are a student or researchers.
Importance of Plagiarism checking in the academic carrier
Plagiarism checking testers help in all aspects of academic carrier and making students respect other people's work and not steal their ideas.
From a business perspective, these tools help protect your copyright and protect your internal documents.
Another way is to use free Plagiarism checking tools to see a person's work and to get the result we used a simple copy and paste content from any document or PDF copy of an academic journal
Plagiarism checking by any Plagiarism testing tools and result will be according to their level of accuracy in finding unsupported content.
In spite of that, these tools have some secondary considerations include extra features such as characters or word count limits, supported file formats, reporting features, and background creation Continue reading and grammar checking facilities.
Role of Plagiarism in academic writing or research
In this age of technology, a Plagiarism checker or detector is essential in protecting your written work and benefits all students, teachers, bloggers, text owners, and anyone else in protecting their writing text.
Cheating or plagiarism kills your working life or carrier. Long ago, readers seemed to have no idea if the paper they posted contained copied content. All they knew was that they were already facing a charge of robbery and they do not have access to services.
Today, experts are able to edit and manage similar expressions after scanning their documents with software. Teachers will also find a tool that reduces the burden of retrieving research activities and opening cases for students to steal documents. A real Plagiarism test or Plagiarism checker is considered an important tool for schools, colleges, institutions of higher learning, institutions, and universities.
Plagiarism software is compatible with different operating systems like Windows, Android, BlackBerry, Moodle, and Web and detects copyright violation in your academic writing or Research, newsletters, research papers, studies, or dissertation.
It supports Google, Yahoo, Bing, Scholar, and textbooks and helps prevent cheating, and take few minutes to analyze your document. Looking for an online service that is accurate enough to help you track duplicate content and make things easier for you. Use a plagiarism checker to track all your written content and save yourself from the shame of being accused of stealing by mistake.
While there are some paid features of Plagiarism that are better and allow you to customize, the free subscription to use duplicate content is right for you. You should know that scanning results are not a matter of checking your credibility. It is a functional program designed to help you trace the same sentences and get a free percentage or similarity report.
Level of Plagiarism in academic writing
According to UGC regulation for Plagiarism decided in 530th meeting for the regulation of Promotion of Academic Integrity and rule for Prevention of Plagiarism in Higher Education (HEI) the plagiarism is categorized into different levels on the basis of similarity % in the text during the plagiarism checking and based on the level of similarity penalties were decided for the authors and the document may be rejected.
Plagiarism level

Explanation

0 level

Up to 10% Similarity

No Penalty (come under minor level and in this case no penalty, you documents are accepted

level 1

Above 10 % to 40% Similarity

Penalty- in this case, your document rejected or asked to withdraw the document and resubmit after perfection.

Level 2

Above 40 % to 60% Similarity

Penalty- in this case, shell be asked for withdrawing document or allowed to take time for rectification.

Level 3

Above 60% Similarity

Penalty- in this case, shell be asked for withdrawing document or not allowed to submit.
This is all about the process and step used in plagiarism Checker software and tools and hope these help you in your detecting plagiarized content for your manuscripts before publishing it, KRS is an online learning platform, which brings novel articles from time to time, stay connected.
Please share and register on our website, so that it can reach all people who need help, and find out more about E-content, for research support, you can find it on our website or you can write to us at [email protected] for a free consultation.
FAQ Related to Plagiarism Checking
Q 1. What is Plagiarism in academic writing?
Plagiarism means presenting someone else's work as your own in academic writing and Plagiarism involves the use of words, ideas, or information from a source without inserting the appropriate text.
Q 2. How does a Plagiarism Checker work?
Plagiarism Checker is a software used to identify similarity matches by scanning documents in various databases online base on AI technology and identifies matching text items and compares them with other published work.
Q 3. How can I check Plagiarism online?
Copy and paste the content into the text box provided in any plagiarism checker tools and click on the "Check Plagiarism Button" and it will use your text in its database of millions of sites to show you the best-plagiarized report with detailed results.
Q 4. How much is Plagiarism allowed?
According to the UGC below 10% similarity is allowed and up to 15% is acceptable in research papers and more than 25% similarity is considered to be the highest percentage of Plagiarism and shell be asked to withdrawing the document.