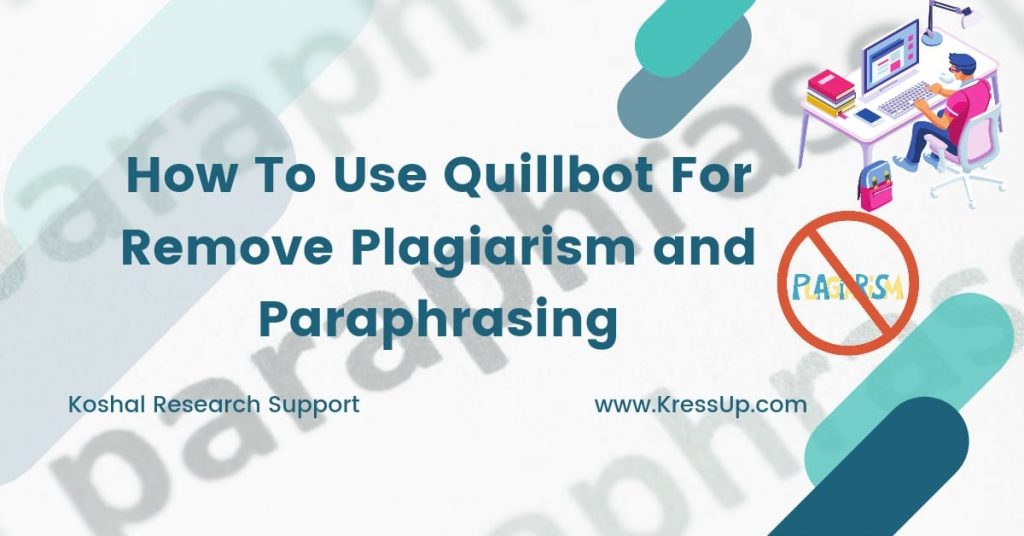 There is an online paraphrase tool called QuillBot that is used to remove plagiarism and rewrite the original text in few seconds, and you can simply paste a paragraph from your own article into the box, and Quillbot will rephrase it using its algorithm.
There are certain unique justifications for plagiarism, such as the fact that you conducted a literature study and included a legitimate citation, but plagiarism will still be a major factor. So, how can we get rid of the plagiarism that occurs as a result of the literature review process?
QuillBot is a paraphrasing and summarizing online tool that helps millions of students and professionals cut their writing time in half by rewriting any sentence, paragraph, or essay using AI.
You may decrease or eliminate plagiarism to zero and write a plagiarism-free document by following a few simple procedures in the QuillBot tool.
How to use QuillBot For paraphrasing the documents
You can simply follow few steps and remove plagiarism from your document, these steps are as follows.
Step 1: Firstly, You can check your document for plagiarism by copying text from your previously published work. I'm suing free using plagiarism detection tools Duplichecker, you can use any free or paid plagiarism checker software and tool available online
Step 2: Next, Go to Google and type QuillBot into the search box and sign up for free or purchase a premium one, or log in by clicking on the login button.
Step 3: After logging in, you'll notice two options for document checking, paste text and upload doc (As shown with a red arrow below)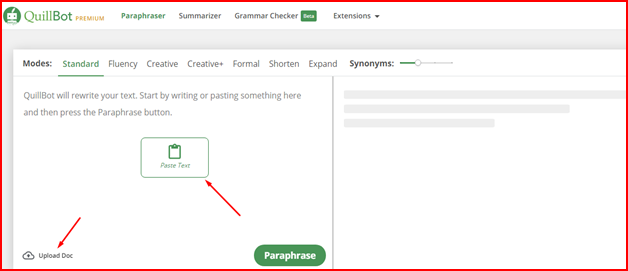 Step 4: Next, You can simply copy and paste your paper or article into the box, and click on the paraphrase button
After examining the click of the paraphrasing, the number of characters in your text is shown in the box as seen above.
Step 5: Fater Clicking on paraphrasing, in the background, you can see your text is being rewritten and the number of paraphrases is being counted as seen below figure.
Note: If you're copying text from another source, such as a study paper or a webpage, only Quillbot is not enough for plagiarism remover or making your documents free from plagiarism.
Step 6: After paraphrasing, you locate your text in different colors indicate, as seen below the change of words, change the in structure, and the unchanged text respectively.

Note: Quillbot has really added several synonyms and completed some tasks using active and passive voice and you can repeat it again, by using rephrase option as shown above.
Step 7: Final plagiarism checking, as the Quillbot can rewrite the content to avoid plagiarism, therefore I'm going to copy and paste this rewritten paragraph into a plagiarism checking tool to see how similar it is.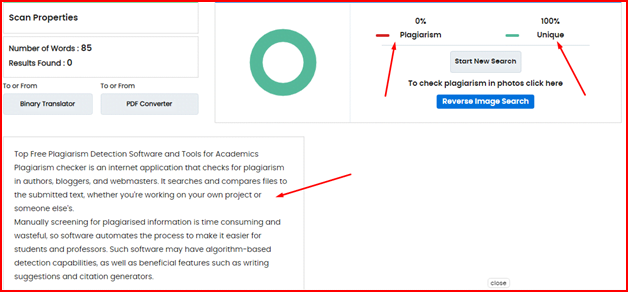 Oho, Cheers, we get 100 % unique text, free from plagiarism
You can see above after paraphrasing and rewrite by using this online QuillBot tool, in this way you can easily use the Quillbot tool to get rid of this plagiarism.
This is all about this article, and you can see the entire process of plagiarism remover using Quillbot, and how to rephrase the original text to avoid plagiarism in your document. You can use these tips to remove plagiarism and paraphrasing your document, research paper, or thesis, etc. KRS is an academic cum research platform that assists you in your career advancement by bringing new articles to you on a regular basis, so stay connected
If this is your first visit to our blog, please share and subscribe to ensure that it reaches the widest possible audience. Visit our website for more E-content and research assistance, or email us at [email protected] for a free consultation.